April 10, 2013, 8:30 a.m. - Python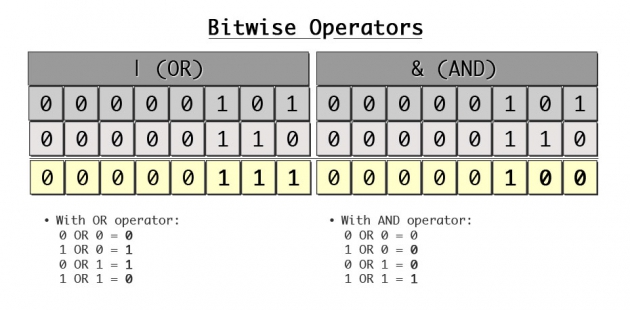 Most all applications have some sort of permission levels or flags. There are many ways to accomplish permissions/flags and one that I like to use recently has been storing numbers in a single column and doing bitwise operation comparisons to figure out if the permission/flag exists.
If you have never heard of bitwise operators before I think you should probably take a look at the following links before proceeding.
http://en.wikipedia.org/wiki/Bitwise_operation
http://wiki.python.org/moin/BitwiseOperators
Basically a bitand (&) operation does a comparison on equal bit patterns lengths.
0 & 0 = 0
0 & 1 = 0
1 & 0 = 0
1 & 1 = 1
Example:
10101
00101
00101 (Passed)
10101
00110
00100 (Failed)
Instead of dealing with bit combinations you can use the decimal representation. If you insist on learning more I would check out the following link. Good luck staying awake.
http://en.wikipedia.org/wiki/Binary_numeral_system
In this very simple example I take a dictionary of permission levels and look up the a permission level based on a binary (base 2) number stored.
2^0=1
2^1=2
2^2=4
2^3=8
etc
Below is a simple example of a dictionary:
https://gist.github.com/johngag/5341955
So with this example dictionary if you wanted to grant addUsers (1) and createPosts (8) the number would be 1 + 8 = 9. Next all you have to do is use python bitand operator (&) to check if a specific permission exists within the number. Below is an example:
https://gist.github.com/johngag/5349715
This just touches the surfice of bitwise operators but it has been really handy for dealing with permissions and flags as you only store 1 value. There are many ways to accomplish all problems and this may not be the best for your situation but has been great in certain situations for me. :)